Fan Man is FANMAN175's real form.
PKMN Trainer
Edit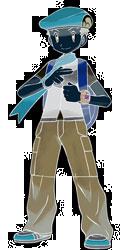 Fan Man's PKMN Trainer form is his second most-used form. When in this form he has seven mutant pokemon.
An inverted Murkrow
An inverted Machoke with 4 arms
An inverted Teddiursa
An inverted flying/steel-type Magby
An inverted Snorlax
An inverted Garchomp
In FM's car form, he is known as Fanon-Striker175. He has a built in canon with Umzap's pokeball loaded into it.
UH OH! THERE'S NO IMAGE!!! ONE COMING SOON
Ad blocker interference detected!
Wikia is a free-to-use site that makes money from advertising. We have a modified experience for viewers using ad blockers

Wikia is not accessible if you've made further modifications. Remove the custom ad blocker rule(s) and the page will load as expected.